Angel One Review: Everything that you should Know
Angel One formerly known as Angel Broking was founded in 1987 and is one of the largest full-service retail brokerage companies in India, offering online discount brokerage services. Investment and trading services offered by Angel Broking include stock and commodity broking, investment advisory services, margin loans, mutual funds, and financial product distribution.
As of August 30, 2022, Angel Broking had 110 branches and 11,000 sub-brokers in 1800+ cities throughout India.
The brokerage plans of Angel One (Angel Broking) were redesigned in November so that it could compete with discount brokers like Zerodha. With their new iTrade Prime plan, Angel Broking now offers flat-rate brokerage services. Users can trade in any segment of the market (Intraday, F&O, Currencies & Commodities) at a fixed rate of Rs 20 per trade, except the Equity Delivery, for which there are no charges, it is provided for free to all users. Regardless of the exchange or segment, the same rate applies.
Investment advisory and trading software are among Angel Broking's best features. A large-size full-service brokerage firm, Angel is the first to offer its customers discount brokerage rates.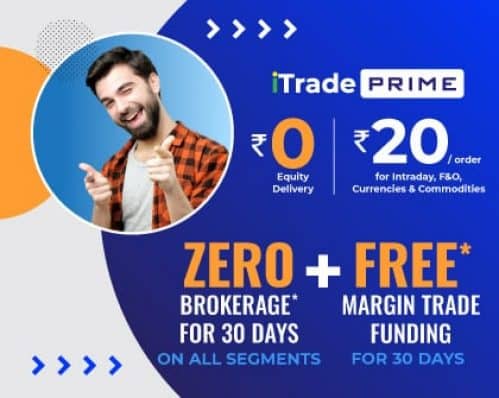 -100%
Rs. 0 Rs. 500
Account Opening is a completely online and paperless process.
With Angel Broking take advantage of discount broker pricing and full-service trading accounts. Pay zero brokerage on equity delivery, and flat brokerage of Rs 20 on intraday and F&O trades. Angel Broking offers free high-quality research reports and personalized services. Get started trading right away by opening an Instant Account.
Angel One Review: Brokerage Charges
A single trading plan is available from AngelOne called Angel iTrade Prime. A trading plan offering full-service brokerage includes very low brokerage charges, similar to those offered by discount stock brokers in India.
More about Angel iTrade PRIME Plan
A new brokerage offering flat fee pricing and premium brokerage services, Angel iTrade launched in April 2019. No hidden charges are associated with this plan except for the additional Rs 20 call and trade charges.
Comparing this plan to full-service brokers such as Sharekhan, ICICI Direct, etc., you can save a significant amount on brokerage fees and taxes.
| Segments | Brokerage Charges |
| --- | --- |
| Equity Delivery | Flat Rs 0 per trade |
| Equity Intraday | Flat Rs 20/trade |
| Equity F&O | Flat Rs 20 per executed order |
| Currency F&O | Flat Rs 20 per executed order |
| Commodity F&O | Flat Rs 20 per executed order |
Key points to note
1. This plan does not require a minimum margin.
2. Customers have free access to trading software.
3. All customers have access to free research and advisory services.
4. A call & trade fee of Rs 20 is charged for each trade.
5. Angel has ceased offering all other brokerage plans, including percentage-based plans, as of April 2019
---
Angel One Online Account Opening Process
Account opening with Angel Broking is a 100% paperless process. Following are the documents that are required for opening an account.
Proof of Identity Documents(Any One)

Pancard
Passport
Voter ID
Driving License

Proof of Address Documents (Any One)

Passport
Voter ID
Registered Lease or Sale Agreement
Driving License
Utility Bills
Bank Passbook
Click here to open an account with Angel Broking and start investing in the stock market in just a few minutes.
---
Angel Broking Trading Platforms
Angel Broking offers broking services through various web, mobile, and desktop platforms. All these trading platforms are available for free to all customers.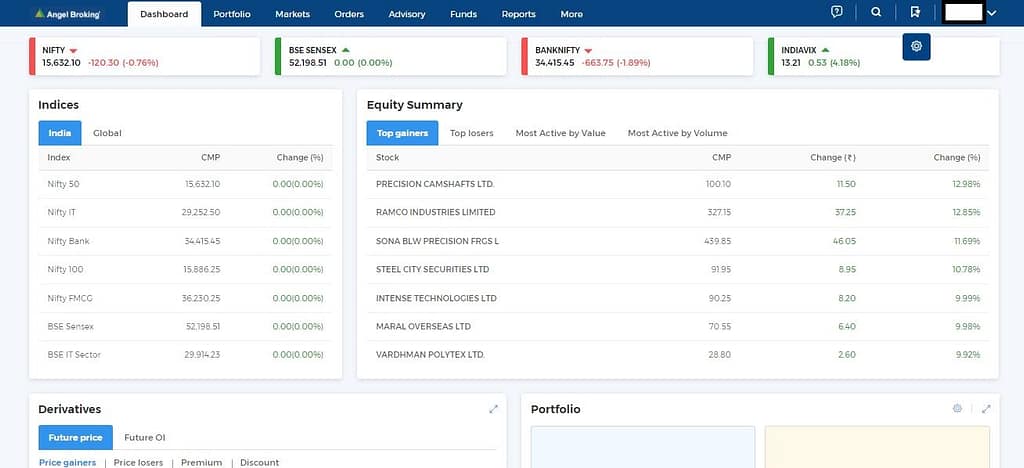 Angel Broking Trade Web Trading Platform
With Angel Brokings's web trading platform, you can meet all of your investment needs. Keep up with the latest trends, manage your portfolio, and trade efficiently with trade.angelbroking.com.
Experience an integrated trading experience. The platform allows you to invest in equities, commodities, currencies, bond funds, mutual funds, and initial public offerings (IPOs).
Chart tools and additional customized features
The Angel Broking Web site offers a number of charts that provide insights into market trends. It is possible to customize these charts according to your preferences and needs. Just adjust the indicators and filters to get what you're looking for. Plan your future actions based on these charts. New orders can be created directly on the charts. You're just a click away from making the right investment.
---
Angel Broking Mobile Trading Platform
Angel Broking app gives you access to the market & offers forward-looking advice, powered by ARQ – a hi-tech auto advisory engine. The smarter trading platform makes online trading Simple, Speedy and secure, while ARQ helps you stay invested in the best-performing stocks and mutual funds 365 days a year.
To help beat the market, the app will also send you alerts so you can rebalance your portfolio as well as in-depth market analysis and advanced charting. The Angel Broking mobile app's innovative features, like multi-list stock tracking, auto-updates, and real-time fund transfers, allow users to trade on the go and instantly with 100% convenience.
Live streaming prices
ARQ – Personalized advisory offering index-beating returns
Intraday charts with Indicators
Online Payment vide 40+ Banks
Quick and easy fund transfer with a Savings Account
Multiple Watch lists across segments
In-depth Reports of Indian & Global Markets
Instant News Updates
Market Trends to help you keep a tab on every movement in the market
Invest in Mutual Funds
Profiling-based mutual funds advisory
View your Funds summary reports and Mark payout for your holdings
View your detailed Profile information
Now track your basic portfolio for Equity and Mutual funds
View advisory calls, detailed research reports
View Basic ratios and the last 5 corporate actions for stocks
View detailed research reports
Introducing One Tap Access. Access portfolio, reports using a Time Password(OTP). Register once and get direct access to all Non-trading information in the app. It's as simple as a single TAP.
Use our chart component to get detailed insight into stocks.
View historical charts with OHLC and Candlestick.
Use around 40 technical chart indicators and overlays to help you analyze each and every aspect of the stocks.
Now receive personalized notifications for trades and ideas
Receive daily news to keep you up to date with Markets.
Now Track your ARQ portfolio and rebalance with just two clicks.
Get personalized ARQ notifications on basket maturity.
Now access the last 10 transactions for Ledger, DP and Funds reports directly from the app.
Now track your derivative portfolio through the Angel Broking Mobile App.
Get real-time commentary on Budget days.
Fundamental, Technical, and F & O bets for the budget week.
Now view your Equity P & L in the portfolio section.
Set default product types for Equity and Derivatives using settings.
Angel Platinum
---
Angel One Desktop Trading Platform – SpeedPro/Trade NXT
Do you trade on your computer? With Angel Broking, it's easier than ever. You can open a Demat account with Angel Broking, download the Angel Broking stock market desktop app, and begin trading. With Angel SpeedPro, all your trading needs are met in a single, integrated platform.
With SpeedPro, you can perform trades in one window from a single screen, plus monitor changes in your positions.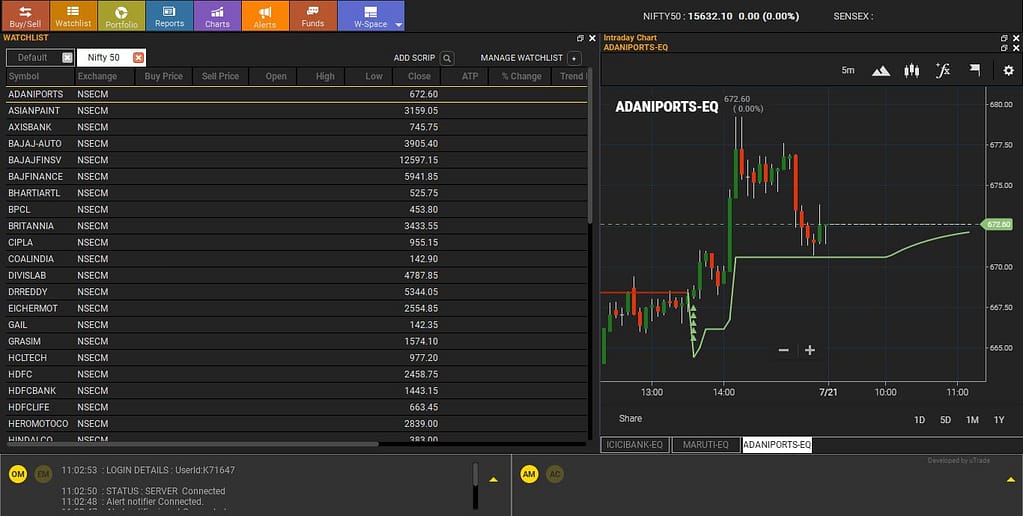 Features:
Real-time rate update: If you are trading on our stock market desktop app, you will not miss any chance of making a good investment. The market is at your fingertips as we offer you a live stream of rates so you can trade in an instant.
Portfolio: Monitor all your investments at once with our stocks desktop app Angel SpeedPro. View scrip-wise buy price, day's gain, and loss, and overall profit and loss of your investments with a simple click.
Online trading: With Angel SpeedPro, you can invest in mutual funds online and redeem them easily. This desktop app for the stock market is your one-stop destination for all mutual fund investments.
Integrated news flash and reports: Don't miss an opportunity to make more money. Our desktop app for the stock market gives you integrated news flash and reports. Analyze these reports to make an informed investment.
Easy installation: Just download the .exe file for the Angel SpeedPro app onto your desktop. Run the stocks desktop app and get started with trading instantly.
Live market watch: You can watch and update live market data in Excel format. Get charts on the latest trends. Tweak charts according to your indicators. Take instant decisions on trading.
---
Angel ARQ Prime?
Angel ARQ Prime is the flagship investment advisory tool of Angel Broking. Essentially, it is a rule-based investment engine (robot) that recommends investment ideas to customers. Stocks and mutual funds are among the types of investments recommended by ARQ. Using technological innovations such as Expert Insights, Machine Learning, Cognitive Algorithms, and Teraflops of processing power, provides insightful information.
ARQ Prime recommends stocks for investment based on a set of rules – free from human intervention or human bias, in the world of investing – it is called "Smart Beta"
ARQ Prime adopts time-tested and proven rules for investing in stocks. ARQ scans all types of stocks to pick Winners: Value stocks, Quality stocks, High Momentum stocks, and Growth stocks.
The trading software provided by Angel is integrated with ARQ. Investing through it is like having a personal fund manager. In essence, ARQ is a tool for advising. Neither a fee nor a minimum investment commitment is required to use ARQ. Angel Broking offers this service for as low as Rs. 50 per year and clients can choose to follow it or not.
Angel Broking's Smart API
In recent years, algorithmic trading has become increasingly popular with retail investors. A service called "Smart API" was created by Angel Broking to fulfil this need. An API (Application Programming Interface) accesses different functions which are exposed through the API host.
A SmartAPI is essentially a suite of functions that can be called to facilitate algorithmic trading. Angel Broking's Smart API exposes the most important features of its trading engine.
The Smart API serves retail investors who were never exposed to Algo trading or startups that are interested in building a feature-rich trading platform. Thanks to Angel Broking's easy-to-understand and detailed documentation, everyone can use Smart API. Additionally, if you are still unsure, Angel Broking's always-active forum is here to help you out.
Here is a breakdown of the Smart API functionality that you can access using it. Getting trades executed was basically a no-brainer for a name like Smart API, right? Next, we'll look at the features that will help you make your trades smarter and faster.
There are many features available, such as live market data streaming, historical data retrieval allowing for backtesting, user portfolio management, and so much more. This is all neatly packaged into Smart API's libraries for whatever language you choose.
Its primary strength lies in its ability to deliver structured, comprehensive data to you – via JSON, that is – making data retrieval and manipulation seamless.
With Smart API's Node JS library, you can develop cutting-edge trading applications over the web without sacrificing user experience. Using smart API you can open up your trading platform to over 1 million clients of Angel Broking, without having to worry about getting broker licenses. Angel Broking takes care of much of the legal work while you focus on developing features and implementing unique strategies.
The Smart API is absolutely free, and you can register for it right now. Create a Demat account with Angel Broking today to get started with Smart API.
---
Conclusion with Pros and Cons
---
Angel Broking Review – Our Take
Is it worth opening a Demat account with Angel Broking? If you ask us, we would say "Yes" because of the plethora of advanced features offered by them. They are improving their Trading platforms very aggressively to meet clients' needs. For Algorithmic Trading they are offering "Smart API" completely free of charge. The integration of famous platforms like Sensibul and Streak is an added advantage. Though there is still scope to improve especially their backend Reporting the way they are moving with the innovation we are confident that they will catch up soon.
Pros – Shining Stars
Fast & Free Demat Trading account opening
Zero Brokerage on Delivery Trades
Most Improved and modern Trading Platform
Free Advisory Service
Best in Class Option Analytics Tools
Basket Orders
Free API Access
Cons – What can be better
Call and Trade fee is charged at an extra Rs. 20 per order
Doesn't offer a 3-in-1 demat account