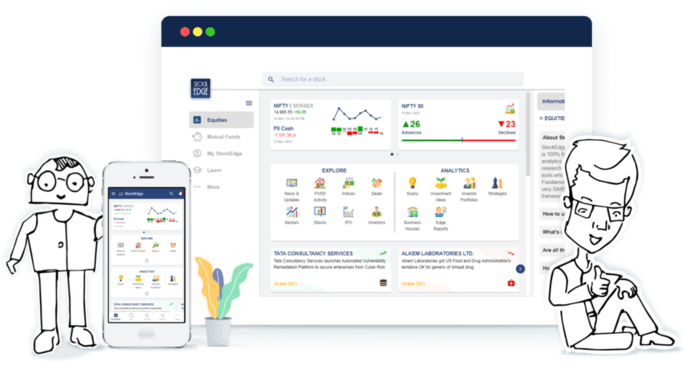 Developed exclusively for investors & short-term traders, StockEdge is the top-rated unbiased stock market app in India.
With StockEdge, users can do stock research in India based on Fundamental, Technical, and Derivatives Research, all in one place. It provides all tools users need to research in an efficient manner using the app/web interface.
StockEdge is India's best and fastest-growing share market app, which provides Data & Analysis on NSE & BSE market data along with Mutual Funds Research & Analytics. Through the application, traders and investors can analyze the stock market in-depth and take better decisions by utilizing end-of-day analytical reports, customized visualizations, and analyzing market data in the best possible way.
In India, StockEdge is a part of the vision to create wealth by educating retail investors on equity market opportunities. The end of the day analytics at the end of the day is what the traders/investors need to look at for sustainable price movement in stocks and investment updates as we do not promote intraday trades. Get control of your stock market investments with this must-have app for managing your money more effectively.
01.
StockEdge Premium features
Key highlights that make StockEdge one of the Best Analytics App:
1. Stock Market Updates
Follow the stock market with filtered daily news, Nifty news, NSE and BSE corporate announcements, upcoming events, indices, daily bulk, block and insider deals, and company results. Cash and derivatives statistics for FII, FPI, and DII.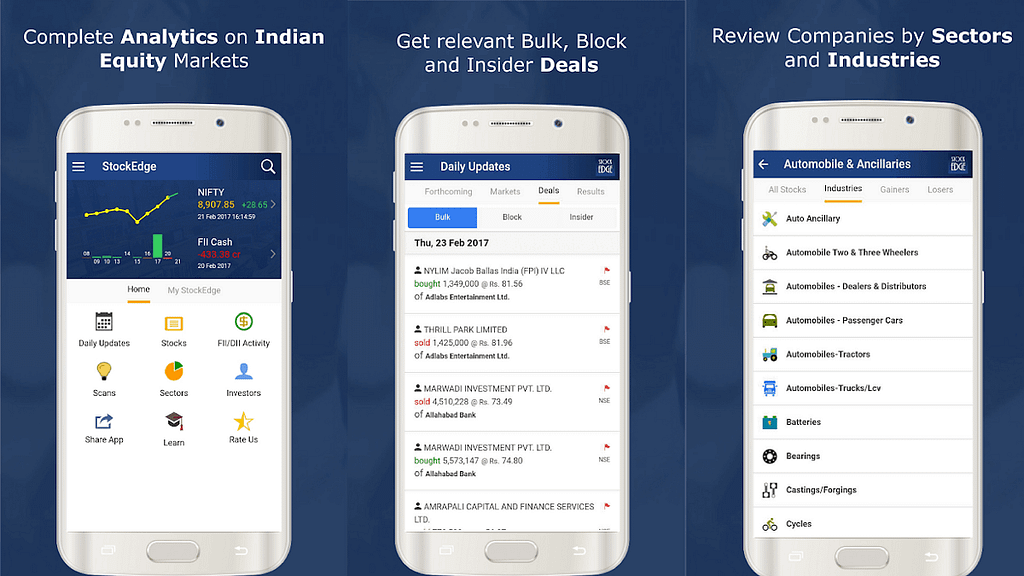 2. Top Stock Research
Through detailed Stock market data such as price graphs (intraday with 5/15 min delay), edge charts with delivery percent of volume graphically, technical performance, levels, and indicators, users can conduct 360-degree research on stocks. A financial overview, detailed results for the last nine quarters, Ratio Analysis, Balance Sheet, Profit, and Loss Statement, Cash Flow Statement, Shareholding Pattern, Mutual Fund Holdings, Con-calls, Investor presentations. IPO tracking system. Find out which companies are planning to go public.
3. Technical Scans
Technical analysis is an art or science of planting the stock information using various Stock market indicators like Price Scans, Relative performance compared to Benchmark and Sectoral Index, High Volume Stocks, High Delivery Stocks, Technical based Daily Scans, RSI, Moving average, CCI, MFI, ROC, ADX, ATR, etc, Candlestick pattern scans, Derivatives scans, Open Interest, Aggressive Longs & Shorts, Options Strike Scans, etc.
4. Fundamental Scans
In order to identify long-term investing opportunities, the fundamental analysis evaluates a company's intrinsic value. Identify companies according to their profitability, turnover, solvency, cash flow, valuation, dividend, efficiency, and shareholding.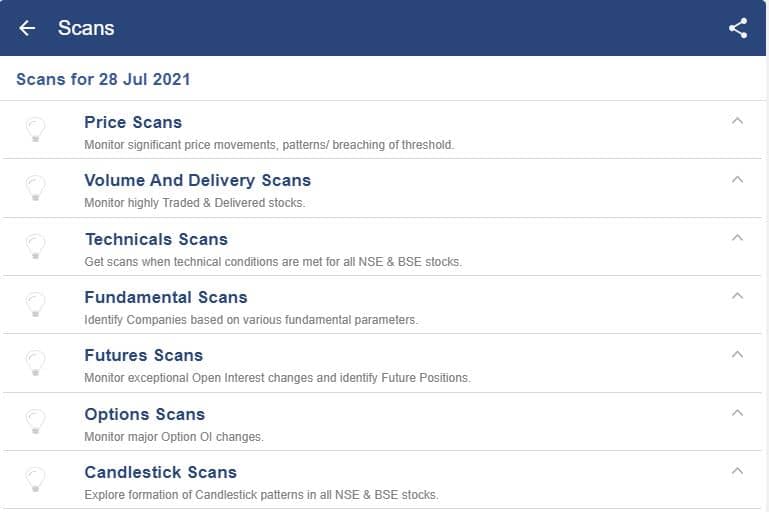 Watch the following video to know more about how to track stocks using StockEdge Scans.
5. Sector Research
Stocks study based on respective company, sector, and industry ratios including MCAP, PE, P/BV, D/E, ROE, and ROCE.
6. Theme-Based Investing Ideas
See how rising crude prices, falling rupee, electric vehicles, solar energy, among others, can generate investment returns.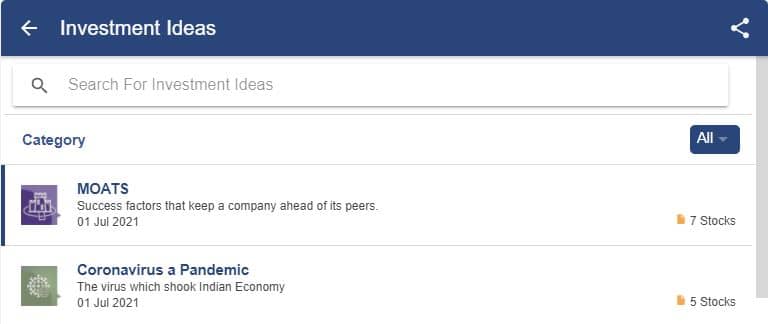 7. Strategies
Created by combining scans, a selection of readymade trading strategies is available for intraday trading and swing trading.
8. Investor Portfolios
Over 300 famous individual and institutional investors' portfolios and deals are available to study.
9. Mutual Fund Analytics
This is the best app for studying mutual fund performance, ratios, portfolio holdings, and fund manager details. Comparison of Schemes by AMC and Class. Perform an AUM analysis.
10. Mutual Fund Investment themes
Choose the mutual fund that is most suitable for you based on Beta, Tax Savings, Short Term Parking, and many more factors.

11. My Section
Create custom equity and mutual fund watchlists, combination scans, and investor groups. Make custom notes for specific stocks, mutual funds, and fund schemes. This makes it easy to keep track of investments and get stock updates.
12. Learn
Start learning technical terms and blogs with Learning Videos, Page Info's, and Instant Learning.
02.
StockEdge Premium Plans and Charges
StockEdge Offers three Premium plans Monthly, Quarterly, and yearly. The StockEdge team offers heavy discounts on quarterly and yearly plans.
StockEdge Monthly plan is available at as low as Rs. 399.
The quarterly plan is available at Rs. 1197 and the yearly plan is available for Rs. 4788. You can use the following offers to avail discounts of 16% on the quarterly plan and 37% on the yearly plan.
We also offer exclusive Stockedge Coupon Codes to nifty20.com users in addition to these discounts. You can take advantage of additional savings by using these StockEdge coupons. StockEdge coupon users receive a discount on top of the following discounts.
03.
StockEdge Coupon Codes
Check out nifty20.com exclusive best StockEdge Coupon Codes, StockEdge Promo Codes, StockEdge Coupons, and StockEdge Offers applicable for Stockedge Premium Subscription.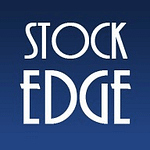 Use this StockEdge Coupon Code to avail the additional discount of 33% on your StockEdge Premium annual plan.
04.
How to Use StockEdge Effectively
In this video, "How to make money from the StockEdge app?" StockEdge Co-Founder Mr. Vivek Bajaj will teach you to identify stocks for your profit-making opportunities via StockEdge App.
To learn how to trade and invest successfully, you must use simple, rule-based, and price action-oriented approaches. The video below demonstrates these approaches.
You can make money without depending on others if you follow a few proven steps
Become your own analyst by learning how to best use StockEdge tools.
05.
What is new in the latest StockEdge Version
What's new in Version 7.4
1. Beta Indicator & Scans
2. Put Call Ratio (PCR) Scans
3. Annual Reports in Stocks under Documents
4. Big Bulls tab in Stocks
5. Download 7 Day historical data in My Combination Scans
6. Stock price page made more informative
7. 10 year time frame added in Performance section
8. Performance Enhancement & Bug Fixes

What's new in Version 7.0
1. Download to CSV in Scans, Strategies & My Combination Scans.
2. Historical data in Scans & Strategies.
3. 4 New RS Scans.
4. NSE 200 & NSE 500 filter.
5. DII Breakup in Shareholding.
6. 4 New Weekly & Monthly Price Scans.
7. 12 New Shareholding Scans.
8. Bug fixes and enhancements.

Best EOD Stock Analysis Software
If you ask us we found that the Stock Edge is an excellent EOD Stock Analysis Software for both Investors and Traders. It is available as Mobile App as well as Web version with a nicely organized UI. It not only focuses on Stock Analysis but you can perform 360 degrees Mutual Fund Analysis. The feature that we like the most is a combination scan using which you can scan stocks for a custom combination of multiple indicators (including delivery and Open Interest scans) on the selected horizon of stocks or sectors to find a great Trading Opportunity. If we talk about the support it is top-notch. If we have to talk about the learning then one can also refer to the repository of exceptionally good videos created by the co-founder of Stock Edge Mr. Vivek Bajaj on how to use the Stock Edge tool along with other technical analysis aspects and be successful in the Stock Market.
Pros
Cost-Effective
Combination Scans to Create Custom Strategies
300+ Technical and Fundamental Scans
Ready-made Strategies
Edge Report for Concall Analysis, Case Studies, IPO Notes
FII/DII Data Analysis
Derivatives Data Analysis
Customization Options with "My StockEdge" feature
Interactive Charts with unique Indicators like Delivery Data
Cons
Interactive Charts can be more User Friendly