Tradeplus is the online brand of Navia Markets Ltd. With Mission to make investing and trading in stock markets simple and rewarding for traders and investors. Navia Markets Ltd. operates Tradeplus as its online brand. NSE-member Navia Markets was founded in 1983 and offers financial services since 1995. Trade Plus was the company's new online brand in 2014 when it relaunched its services.
To accomplish this mission Tradeplus Online brings to you technology-driven, simple yet intelligent solutions that enable you to invest or trade at almost zero cost.
Tradeplus Online strives to bring you the best, technology-driven, investing and trading tools that equip you with the relevant information to make the right decisions at the right time. Tradeplus Online always likes to be innovative and you will feel this in dealing with them, right even at the stage of opening an account.
Online stock broker Tradeplus offers products that include trading & investment at the BSE, NSE, and MCX. Tradeplus is famous for its unlimited zero brokerage trading plans which offer infinite trading at a fixed monthly fee in few segments. The unlimited trading plans are available in Commodities, Equity, Options, and Currency Derivatives segments.
Additionally, Tradeplus offers investment options in IPOs, Bonds, Mutual Funds, and G-Sec online.
Tradeplus provides a robust trading platform to its clients. The platform consists of an executable trading application (Exe), a trading website, and a mobile trading application. Along with its own trading platforms Rocket Web, Infini Power, and Infini web and Rocket Mobile, Tradeplus also provides its customers with BSE's BOW platform.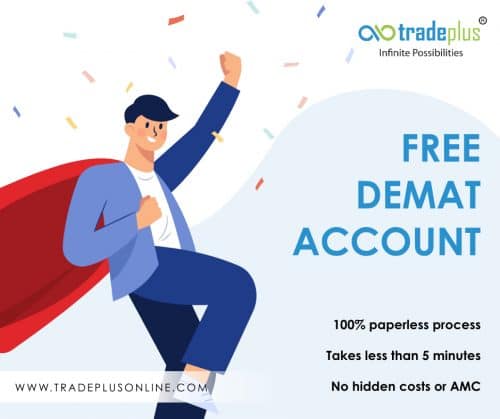 Rs. 0 Rs. 499
Invest in the stock market with a 0%
Brokerage Flat fee per month
An all-in-one account
Advanced trading platforms
---
TradePlus Online Brokerage Charges

Tradeplus, a pioneer of flat brokerage pricing plans offers you more ways to make your money work harder. Tradeplus offers 2 brokerage plans "Smart Flat" and "Flat Pro". The equity delivery is free in both plans. These plans offer trading in Equity, Derivatives (Futures and Options), Commodity, and Currency.
The best part about TradePlus Online is that ZERO AMC (Annual Maintenance Charges) for Demat or Trading Account.
Most Affordable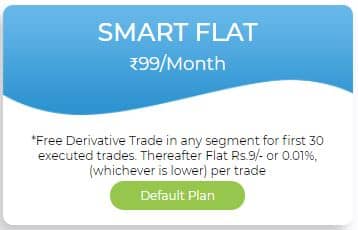 Smart Flat
Flat Rs. 99/Month
Open Your Account Now
Bottom Line
Free Derivative Trade in
any segment
for the first 30 executed trades. Thereafter Flat Rs.9/- or 0.01%, (whichever is lower) per trade. If your monthly trading frequency is less than 70 trades then you should go for this trade.
Key Features
Free Equity Delivery Trades
Simple Cost Effective plan for Traders/Investors with less trading frequency
Rocket Trading Platform (Both Mobile and Web)
BSE BOW Desktop Trading Platform
Recommeded > Most Efficient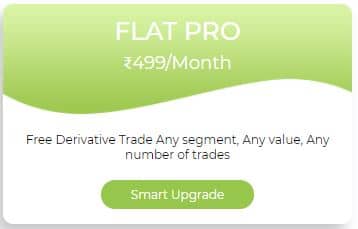 Flat Pro
Flat Rs. 499/Month
Open Your Account Now
Bottom Line
Free Derivative Trade
any segment
, Any value, Any number of trades.
If your monthly trading frequency is greater than 70 trades then you should go for this trade.
Key Features
Free Equity Delivery Trades
Unlimited
trades at Just
Rs. 499
per month is an amazing brokerage offered by Tradeplus Online. The best plan for active Traders
Choice of Trading Platforms either
Rocket
or
Infini
(Both Mobile and Web)
EXE (Desktop) trading platform
Cover/Bracket order features
Long term funding on Equity Trades
TradePlus Smart Flat Brokerage Plan
For this plan, you pay only Rs. 99 per month. The TradePlus Smart Flat Brokerage Plan offers you the first 30 executed trades FREE of charge. After the first 30 trades, a flat brokerage of Rs. 9 or 0.01% (whichever is lower) is charged per trade. This is much lesser than other discount brokers who charge Rs. 20 per trade.
This is the default plan assigned when you open an account with Tradeplus Online.
This TradePlus Brokerage plan is best suited for traders who trade less but if you are an active trader and execute more than 70 trades per month it is best to upgrade to the Tradeplus Flat Pro Plan.
This plan will give you access to Tradeplus Online's Web and Mobile Trading Platform "Rocket". It also offers you Desktop Trading Platform "BSE BOW".
TradePlus Flat Pro Brokerage Plan
For TradePlus Flat Pro, you have to pay only Rs. 499 per month and that's it. With the TradePlus Flat Pro Brokerage Plan, you can execute unlimited trades in any segment be it Equity Intraday, Futures & Options, Commodities, and Currency.
With this plan, there is no limit on how many trades you execute per month you will not pay more than Rs. 499.
With the TradePlus Flat Pro Brokerage Plan, you are not limited to TradePlus "Rocket" trading platform but you get to choose your trading platform. There are two different trading platforms offered by TradePlus Online "Rocket" and "Infini". In addition to Infini Web and Infini Mobile, the Infini trading platform will give you access to a full-featured Infini Desktop Trading platform. This plan gives you access to more advanced order placement options like Cover Orders and Bracket Orders.
You should choose this plan if you are an Active Trader. This plan is an excellent offering by TradePlus Online for Active Traders or Scalpers who executes 100s of trades per month. With this plan, you need not worry about brokerage when entering or exiting the trade as this plan brings down your Break-Even Point (BEP) to the lowest of all other discount brokers.
---
TradePlus Online Brokerage Savings Calculator
As a flat fee stock broker, TradePlus Online provides tremendous savings even when you compare them with other discount brokers.
To illustrate this considering that you are paying Rs. 20 per trade as a brokerage and you are executing 100 trades per month then the brokerage will be Rs. 2000.
If you use TradePlus Smart Flat Plan then for the same number of trades brokerage will be Rs. 729 that is the saving of Rs. 1271 over other discount brokers.
Now if you switch to the TradePlus Flat Pro plan then for the same number of trades or even more number of trades brokerage will be Rs. 499 that is the minimum saving of Rs. 1501 over other discount brokers. I am saying minimum savings here because there is no upper limit on how many trades you can execute in a month when you are on the TradePlus Flat Pro Plan.
TradePlus Online Trading Platforms
Tradeplus Online Offers Trading Platforms which allows you to trade on the go with Mobile App, Web Platform. For the fans of Desktop Trading Application, Tradeplus offers desktop trading software as well.
Rocket Trading APP
Never miss an opportunity in the stock market with Rocket Trading Mobile APP
Single app for Stocks, Mutual funds, IPO, Bond investment.
Open an account and start trading within minutes
AI powered and Crowd sourced Fundamental and technical research
Powerful trading tools for Traders and Investors
Rocket Web Trading platform
Advanced and Intuitive Web based online trading platform
Simplified platform for Indian stock markets and designed for new and expert investors alike with fresh, flexible and new user interface.
While UI is simple and easy to use, you will find it intelligent and intuitive while navigating into various menus of the system.
Amazing charting experience with over 100 indicators which are intuitive to beginners and powerful to seasoned Traders.
Infini desktop trading software
A desktop platform built with tools that Research analysts and experienced trader's use
Advanced Charting with trade off the charts. Full range of built-in indictors and drawing tools. Multi time frame charts in one view.
Scanners to identify market opportunities as it happens. Powerful Futures and Options Data Analyzer
Business news, world market data, announcements and flash trading data.
Excel integration of watch list to support macro writing for creating your own trading strategies
Tradesenze
A unique tool focusing on Short-term trading.
By using TradeSenze, you will be able to decrease the number of trades you make per day while increasing the number of winning trades. TradeSenze's Desktop software helps you increase the number of profitable trades by combining amazing speed, intuitive analytics, and a simple, numbered trade system.
This is a separate analytical tool which will cost you additional Rs. 1000 per month
Short term ideas for 1 day to 5 days based on number trade system
Increase the probability of profitable trades.
Easy to understand and very simple to execute based on clear entry, exit and stop loss levels.
Strategies that work in Equity, Currency and Commodity segments
Live price quotes of NSE, BSE, MCX & NYSE too
---
TradePlus Online Review – Our Take
We would recommend TradePlus Online for their flat brokerage plan to active traders to reduce the brokerage drastically. For passive investors, we would recommend staying with larger brokers for now. TradePlus Online has improved leaps and frogs if we talk about technology and innovation. This is clearly visible in the way they are developing and improving the new trading platforms as well as various investment offerings such as direct mutual funds, Investment in IPOs, Bongs and G-SEC, etc. If they improve the stability of their trading platforms more which will make TradePlus Online much more reliable then surely TradePlus will have an edge over other discount brokers.