Groww vs Zerodha: Which one to Choose?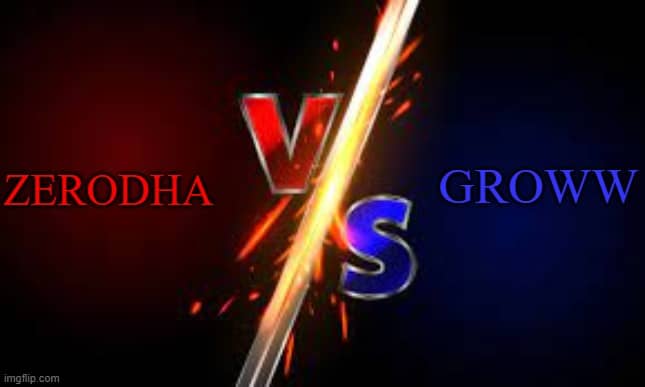 Selecting the right investment platform is key in today's fast-paced finance world. Groww and Zerodha have become top choices, but which one is best? Let's take a close look to help you make an informed decision.
Groww vs. Zerodha: Clash of the Titans
Both Groww and Zerodha feature effortless investments with user-friendly interfaces and low fees. While Groww focuses on newbies, Zerodha appeals to experienced traders with its advanced tools and research options.
Unique Characteristics to Consider
Groww offers access to mutual funds, direct stocks, and digital gold. Whereas Zerodha offers stocks, commodities, mutual funds, bonds, ETFs, and more. Plus, Zerodha's 'Varsity' tool provides comprehensive educational content to help users make smart investing decisions.
Something to Bear in Mind
According to an ET Markets survey in 2021, Groww and Zerodha are leading the industry with their user-friendly platforms and customer-centric approach.
Choosing Groww or Zerodha depends on your investment needs and preferences. Both provide unique advantages that fit different investor profiles. So, why wait? Explore these platforms now and start your journey to financial success.
Overview of Groww
Groww is the go-to investment platform. It's got a user-friendly interface and plenty of features to please everyone – from beginners to seasoned investors!
You'll find lots of options here. From digital gold to stocks and mutual funds – Groww has a portfolio to suit every investor's needs. So you can easily diversify and reduce your risk.
Groww also takes the stress out of investing. It's designed to be simple and easy to navigate. That makes it great for those new to investing who are intimidated by complicated financial terms. Plus, you get detailed info about every option, so you can make the right decisions.
You'll also find expert advice and analysis on Groww. Blogs and articles written by pros keep you up-to-date with market trends, helping you to stay ahead and make the most of your investments.
Plus, the process of opening an account is quick and straightforward. You can start investing with ₹500 and track your investments in real time on the app or website.
Here are a few tips to get the most out of Groww:
Learn from the educational resources.
Try different investment options.
Keep track of your investments.
Plan for long-term goals.
Take these on board and you'll be able to maximize the benefits of using Groww. Whether you're a beginner or an experienced investor, Groww has something for everyone!
Overview of Zerodha
Zerodha is a top brokerage firm that provides great online trading services. It is popular among investors due to its user-friendly platform and competitive rates. Let's look at the key aspects of Zerodha through an info table.
Here's a quick overview of Zerodha:
| Aspect | Description |
| --- | --- |
| Establishment | Started in 2010 |
| Customers | More than 5 million registered users |
| Trading Platforms | Kite (Web-based and Mobile), Console |
| Products Offered | Stocks, derivatives, commodities, currency futures, mutual funds |
| Brokerage Charges | Flat ₹20 per trade or 0.03% (whichever is lower) for intraday and delivery trades |
| Account Opening | Online account opening process with minimal paperwork |
| Education Initiatives | Zerodha Varsity, Loads of resources such as blogs, webinars, and courses to educate investors |
Apart from the above, Zerodha also offers unique features like direct mutual fund investments without any commission fees and a P2P investment platform called Coin. This makes the trading experience even better.
Pro Tip: Leverage Zerodha's education resources to hone your trading skills and make smart investment decisions.
By understanding Zerodha's overview and special features, you can make an informed choice about the right brokerage service for your trading needs.
Comparison of Features
Comparing features between Groww and Zerodha is helpful for those looking for a great investment platform. Let's look at what sets them apart.
Features:
Groww & Zerodha
User-Friendly Interface: Yes
Investment Options: Mutual Funds, Stocks & ETFs
Minimum Investment Amount: None
Trading Account Charges: None
Brokerage Charges: Groww – Zero Brokerage on Direct Mutual Funds. Zerodha – Rs. 20 per executed order
Additional Charges: Groww – None. Zerodha – Rs. 300 per year for Demat account
Research Tools: Groww – Basic tools. Zerodha – Comprehensive set of research tools
Ease of Account Opening: Both quick & hassle-free
Customer Support: Both offer responsive customer support.
Groww has a user-friendly interface that's ideal for beginners. Zerodha, on the other hand, has comprehensive research tools that are perfect for more experienced traders.
Both platforms have become popular in India's financial sector recently. They are both reliable and transparent.
In conclusion, it all depends on your requirements. Both Groww and Zerodha have proven to offer diverse investment options and customer support. Make your choice today!
Pros and Cons of Groww
Groww is a much-talked-about investing platform with its benefits and drawbacks. Let's discuss both!
Enormous User Base: Its easy-to-use interface and simple navigation have helped it gain massive popularity. People are investing in Groww in huge numbers.
Low Cost: As compared to other platforms, Groww is really cost-effective. It charges no commission for direct mutual funds and allows investments without any fuss.
Variety of Options: Equity, mutual funds, digital gold and more – Groww has them all. So, you can create a portfolio according to your preference.
Still, a few downsides need to be considered.
Restricted Research Tools: Advanced research and analysis tools are not available. This might not be suitable for experienced traders.
Customer Service: Although there's a team to support customers, it takes time to get a response. This can be an issue if you have an urgent query.
Service Limitations: Derivatives trading and IPO applications are not supported by Groww. Thus, you may have to look for other platforms.
Also, Groww has a mobile app, making it easier to invest on the go.
It's important to decide whether Groww or any other investment platform suits you, depending on your goals and preferences. Don't forget to explore other options before investing!
Pros and Cons of Zerodha
Zerodha – a popular investment platform – has advantages and limitations. Let's explore the pros and cons of using Zerodha for investing.
Pros:
Transparent Pricing: No hidden charges, so users can see their transaction costs.
User-Friendly Interface: Intuitive and easy to navigate.
Advanced Trading Tools: Market depth, technical indicators and charts.
Low Brokerage Charges: Competitive rates to reduce trading costs.
Cons:
Customer Support: This can be delayed or hard to reach.
Learning Curve: Difficult to understand stock market concepts.
Conclusion
Comparing Groww and Zerodha has been fascinating. Both offer unique features and advantages to investors. After analyzing, it's clear the pick between them depends on individual needs and preferences.
Zerodha has a broad selection of investment options and low brokerage fees. Whereas, Groww stands out with its user-friendly interface and straightforward investing experience. So, those who prioritize many investment choices may opt for Zerodha. While those who value convenience and simplicity may find Groww attractive.
Groww is exceptional for its focus on educating investors through informative articles and blog posts. This can be very beneficial for beginners who want to learn more about investing. On the contrary, Zerodha offers advanced tools and resources for experienced investors seeking more complex trading options.
Both have their strengths and weaknesses in customer support. Zerodha offers quick responses via live chat and email. But, Groww emphasizes self-help sources like FAQs and tutorials. Thus, one may have an edge over the other depending on which type of assistance you prefer.
Pro Tip: Before settling on Groww or Zerodha, consider evaluating your investment objectives, trading style, preferred user experience, available features, and customer support choices. The suitable choice will be driven by finding the platform that fits your needs best.
Final Recommendation
When picking between Groww and Zerodha, there are a few things to think about. Both have a wide range of investment options and features, making it hard to choose.
For an educated decision, consider the user experience both offer. Groww has a user-friendly interface while Zerodha gives advanced trading tools for experienced traders.
Also, cost structure matters. Groww has zero commission on mutual funds but charges for stock trading. Zerodha has a discount brokerage model with lower trading fees.
Customer support is very important. Groww offers prompt, helpful support through different channels. Zerodha also offers support, but response times might be longer during peak hours.
In conclusion, each platform has its own advantages and caters to different types of investors. Ultimately, the choice depends on individual preferences and needs.
To help make a decision, here are some lesser-known details. Groww has become a leading platform in India by focusing on simplicity and ease of use. Zerodha has made a name for itself with innovative solutions for pro-level traders. It's the largest retail stockbroker in India and is trusted by traders.
Do your own research before deciding. Think about your investment goals, risk tolerance and preferred user experience to figure out which platform works best for you.
Frequently Asked Questions
1. What is Groww?
Groww is a user-friendly investment platform that allows individuals to invest in mutual funds, stocks, and other financial instruments. It provides a simple and seamless investment experience through its mobile application.
2. What is Zerodha?
Zerodha is a popular online discount broker in India. It offers a wide range of financial services, including trading and investing in stocks, mutual funds, commodities, and more. Zerodha is known for its low-cost brokerage and technologically advanced platforms.
3. Which one is better for beginners, Groww or Zerodha?
Both Groww and Zerodha have their advantages for beginners. Groww is particularly suitable for new investors who want a simple and user-friendly platform. On the other hand, Zerodha offers more advanced features and tools for those looking to actively trade in the stock market.
4. What are the fees and charges associated with Groww and Zerodha?
Groww does not charge any transaction fees for mutual fund investments. It offers commission-free mutual funds. However, there may be charges for buying and selling stocks. Zerodha has a simple pricing structure with low brokerage charges for equity delivery trades and zero brokerage for other segments like mutual funds.
5. Which platform offers better research and analysis tools, Groww or Zerodha?
Zerodha is known for its comprehensive research and analysis tools. It provides various charts, indicators, and market data to help traders make informed investment decisions. Groww also offers some basic research tools, but Zerodha has a broader range of advanced tools for in-depth analysis.
6. What are the customer support options provided by Groww and Zerodha?
Both Groww and Zerodha offer customer support through multiple channels. They provide online support through chat, email, and support tickets. Additionally, Zerodha has physical branch offices in major cities where investors can visit for in-person assistance.