Upstox is a leading Indian stockbroker that caters to retail investors. Founded in 2010, Upstox has over 1 crore customers and is known for its low brokerage fees, user-friendly platform, and variety of investment products and services.
Here are some of the key features of Upstox:
Low Brokerage Fees: Upstox offers some of the lowest brokerage fees in India. This means that you can save money on your investments.
User-Friendly Platform: Upstox's trading platform is easy to use and navigate. This means that you can start trading right away, even if you are a beginner.
Variety of Investment Products: Upstox offers a variety of investment products, including stocks, mutual funds, IPOs, and derivatives. This means that you can find the right investment for your needs.
Educational Resources: Upstox offers a variety of educational resources to help you learn about the stock market. This means that you can make informed investment decisions.
Upstox is a great option for retail investors who are looking for a low-cost, user-friendly way to invest in the stock market.
Want to know more about Upstox Features, Charges, Pros and Cons then read our comprehensive Upstox Review here.
Sign up for a free Upstox account today and start investing!
Opening a demat account with Upstox is quick and easy. With the online account opening process, you can set up a demat and trading account in just a few steps. Start by submitting and verifying your PAN and Aadhaar. Once verified, your account will be opened in a maximum of three days. With Upstox, you can enjoy a secure onboarding process with just PAN, Aadhaar, and eKYC.
In this post, we will show you how to open a trading and Demat account with Upstox online.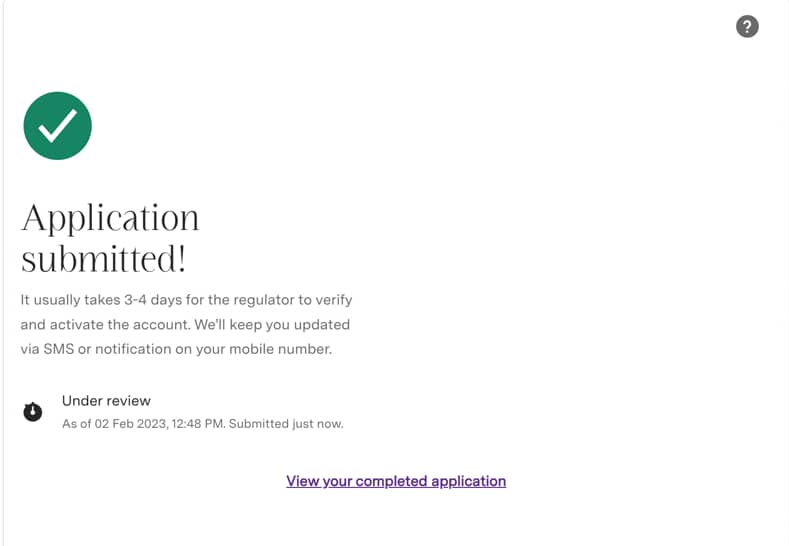 In this post, we will walk you through the process of opening a Trading and Demat account with Upstox online.
Time required to complete account opening process: 30 hours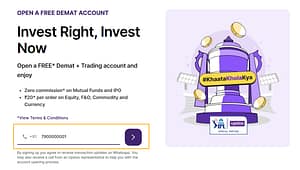 Visit Upstox.com. Enter your mobile number and submit or to continue the previous incomplete process click "Login".
STEP 2: Verify Mobile Number
Verify your mobile number and create a new 6- digit PIN, next confirm your PIN.
STEP 3: Verify the Email Address
Verify your email address and proceed further with the account opening process.
Aadhaar and PAN card – Keep them handy
Please have your Aadhaar and PAN card ready before you continue with the account opening process.
STEP 4: Enter PAN Details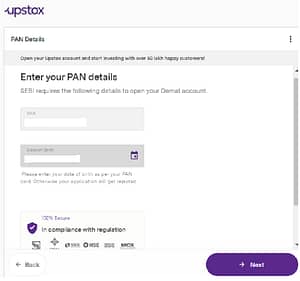 Enter your PAN card number along with your Date of Birth as per the PAN card and click 'Next'.
STEP 5: Enter Personal Details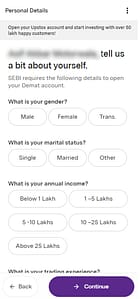 Enter your 'Personal Details' and click 'Continue'
STEP 6: Verify Address
Verify your address details or go back to modify the previously entered address.
STEP 7: Provide a Digital Signature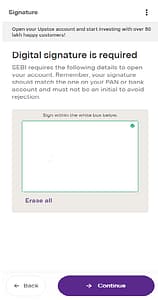 Enter your digital signature in the white box or upload the sign image. The signature provided here must match with PAN and Bank Account. Do not provide initials only. This is a SEBI requirement.
STEP 8: Connect your Digilocker with Upstox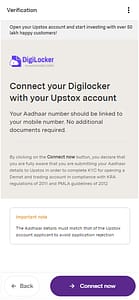 Connect your DigiLocker account to Upstox. Your Aadhaar card should be linked to your mobile number. Once you connect your DigiLocker account, you will not need to upload any details. Click on "Connect now" to get started. To allow Upstox to access your DigiLocker data, click "Allow" and then "Proceed".
STEP 9: Take a Photo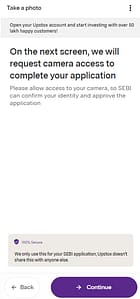 On the next screen, you will be asked to allow Upstox to access your camera. This is required by SEBI to capture a live photograph of your face. Follow the instructions given to submit a proper and clear photo.
STEP 10: Check Photo Quality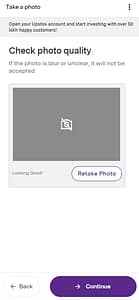 Before you continue, make sure the photo is clear and in focus. If it is blurry or unclear, click "Retake Photo" and take another photo. Once you are satisfied with the photo, click "Continue"
STEP 11: Provide Bank Details
Enter your Bank details used for fund transfer to a trading account.
STEP 12: Select Brokerage Plan
The next page has details on account opening and brokerage plan benefits. Select a plan and click "Continue".
STEP 13: Select Segments or do it later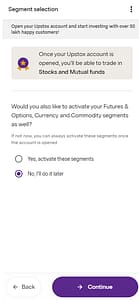 On the next screen, select and activate the segments you want. You can skip this step and do it later.
STEP 14: Add Nominee Details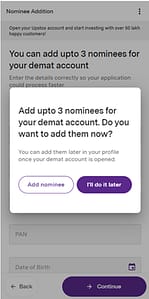 You will then see a screen where you can add up to 3 nominees to your Demat Account.
STEP 15: Upload Identity Proof for Nominees
You will need to upload a copy of the nominees' IDs. If you are adding a nominee who is under 18, you will also need to provide the name, address, and ID of their guardian.
STEP 16: e-Sign application and submit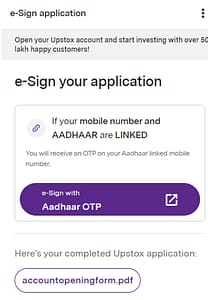 e-Sign your application using Aadhaar and you will receive a one-time password (OTP) on your mobile phone number linked to your Aadhaar.
-> You will get the first option to enter OTP sent on a registered mobile number with -> Upstox.
-> You will be asked to enter your Aadhaar number, tick the terms & conditions box, and click on Get OTP.
-> Enter the OTP and complete the process.
STEP 17: Submit & Track Application Status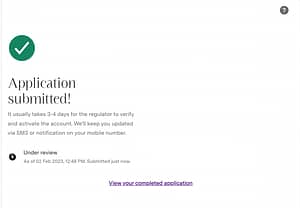 You can track your application status after you complete the Upstox account opening process. It will take 4 working days to verify and activate your account.